Planned Giving
Meet Our Donors
Jonathan Hanford Olds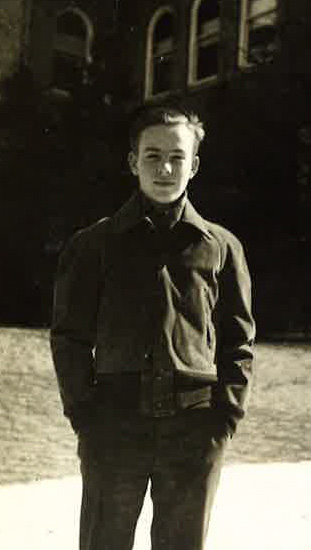 In the fall of 2013, Jonathan Hanford Olds, Academy Class of 1942, received the usual Charter Day mailing. He was living in Florida and had not been to Bryn Athyn since the 50th reunion of his class in 1992.
This gentle reminder of his roots prompted him to call his attorney and cousin, Bob Adams, and ask to have his will rewritten. He wanted to leave an endowed scholarship to the Academy Secondary Schools. We didn't hear anything more until August 2015 when we received an email from Jonathan's nephew, Jonathan Smith of Glenview, telling us that his uncle, Jonathan Olds, had passed into the spiritual world and had left most of his estate to the Academy Secondary Schools.
Jonathan was born on January 22, 1924, in Huntingdon Valley, Pennsylvania, to the late Charles Lewis Olds M.D. and his second wife, Irene Ayres Mansfield Olds. Charles and his first wife, Mary Johnson, a Smith College graduate also educated at Oxford, were both homeopathic physicians who became pioneers in the wilderness of Marco Island, Florida. There they raised three daughters: Saloma, Rosalie and Orida. With Mary's death, Charles returned to the Bryn Athyn area where he married Irene, who gave birth to Joselyn Olds Smith and her brother, Jonathan.
Jonathan was a quiet, unassuming young man, living with his family in Huntingdon Valley. His father had a large homeopathic medical practice there. Jonathan was a member of Sigma Delta Pi in the Boys School. Since there was no yearbook during the war years, there are no surviving pictures or information on the Class of 1942. There is a picture in the 1940 yearbook. In surveying a number of his classmates, they affirmed that he was very shy and no one I could find had any contact with him after graduation.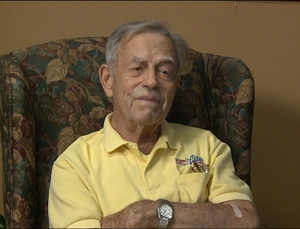 We know that Jon joined the Navy just as World War II was heating up. While stationed in Miami, he met his first wife, Mildred Dabney Hudson, and they were married in June 1945. One week later, Jon was transferred to the Navy Yard at Norfolk, Virginia. Then he was transferred to the USS Adonis, a Landing Ship Tank that had been converted to a repair ship, where he remained until the end of the war.
He returned to his new wife in Miami and was hired by Pan Am World Airways. He was also studying at night at the University of Miami. Jon spent 37 enjoyable years with Pan Am, as Chief Project Engineer and Director for new aircraft, as well as Director for Communications.
His wife Mildred died in 1981. A year later, Jon married Frances Agnes Gutman and took early retirement from Pan Am at age 59. They wintered in Key Largo, Florida, and the North Carolina mountains for the summer months until Frances' death in September of 1987.
Experience taught Jon that being around people was the best medicine for grief. He joined a local Fred Astaire ballroom dance studio for lessons where he met his late wife, Eva Milburn, a recent widow, and moved into her home in Horse Shoe, North Carolina. Jon served as President of the Memories Ballroom Dance Club for nine years, with Eva as secretary, until 2011. They were also members of the Four Seasons Dance Club and were joyous ballroom dancers as well as superb organizers and hosts.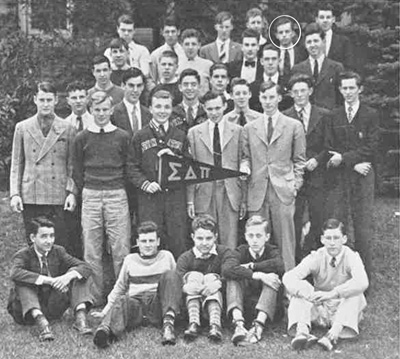 At age 79, Jon learned to fly a Cessna 172, bought a plane and took great pleasure in his adventures. He was a ham radio operator and took endless delight, as did his father before him, in working in their woods, sawing and chopping logs for the winter fireplace. A kind, active and hardworking man, he engaged in many different types of work on motors and other engineering challenges for 27 happy years before Eva died in March 2015.
Jonathan never had children of his own, but is survived by nephews: Joel, Jonathan, Willard and Gilbert Smith of Glenview, Illinois, and Charles Smith of Cherokee Village, Arkansas; also by his second cousin, Martha Olds Adams and her husband, Bob, residents of Hendersonville, North Carolina.
That invitation to Charter Day three years ago reignited the love he felt for the Academy and the time he spent here. Jonathan may have been quiet and unassuming in his younger years, but he blossomed and became very successful as an adult. He left a small fortune to the Academy Secondary Schools to establish the Jonathan H. Olds Memorial Scholarship. This endowed scholarship will continue to support many students and will make an immeasurable difference in their lives.
Thank you, Jonathan. You will be remembered for generations to come.